Chevrolet Silverado vs. Toyota Tundra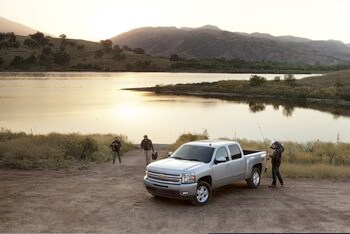 Competitive Advantage of the Chevy Silverado
-Silverado comparable mpg to Tundra
-Cheaper to own
-Better warranty
-Better towing capacity (9100)
-Comes with standard features of traction control and stability control
Chevy Silverado v. Toyota Tundra
When it comes to trucks it's important to know exactly what you NEED and forget about what you WANT. The price-conscious buyer asses a car based on practicality and value. Consumers currently in the market for a new pickup truck know that the regular size cab models offer enough value to satisfy everyday transportation needs (unless you need to tow upwards of 10,000 pounds at a time, then you would need an extended or crew cab). Consumers should be well informed about the great value of certain offers in the current pickup truck market. And that's why I'm posting here.
The Chevrolet Silverado or the Toyota Tundra? Let's compare the value in each. When buying a new car, one of the most important decision influencers should be powertrain warranty. You want to be assured that a malfunction of the engine or transmission would be covered by the manufacturer for a long period of time. After all, those are the most expensive parts of the car to replace and certainly not an additional cost you want to deal with. Chevy offers a 5 year/100,000 mile warranty for the Silverado, however, Toyota only offers a 5 year/60,000 mile warranty. Advantage: Chevy.
In terms of performance, the Tundra is slightly superior to the Silverado (270hp compared to 195hp). The Silverado has a max towing capacity of 9,100 pounds whereas the Tundra can only tow 4,900 pounds. The Silverado has a clear advantage here and for $3,000 less it is clearly a better value buy. The Toyota Tundra has an MSRP of $25,155 while the Chevrolet Silverado has an MSRP of 22,195.
In conclusion, the Silverado is a much better value. Both have the about the same gas mileage at about 15-16 city and 20-21 highway and the only significant area in which the Tundra outperforms the Silverado is horsepower and torque. The Silverado can tow almost twice as much as the Tundra and at about $3,000 less the Silverado is clearly a steal.
http://www.youtube.com/watch?v=STMuQXVuqs0
http://www.chevrolet.com/hd-to-hd-truck-comparison/